Place
Rue Du Gibet 16 - 6940 Durbuy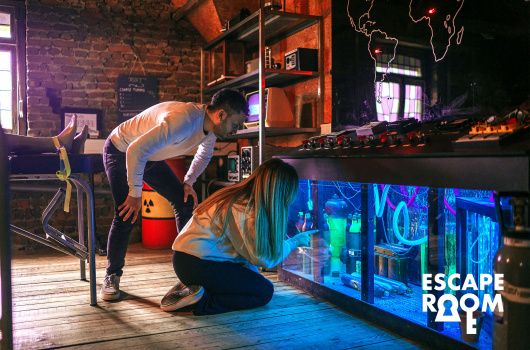 Try to escape from one of our 7 Espace Rooms.
This is the most fun and challenging group activity for families, friends and companies.
You will have a maximum of 60 minutes to solve various riddles, and preferably as quickly as possible. Working together is very important. Join forces and escape thanks to your creativity, teamwork and logical thinking.
Each room is a discovery with a new story. The language in the rooms is universal.
*Please arrive at the activity 15 minutes in advance.
Choose from our 7 themed rooms:
The four robbers 

Former member of a gang of burglars called the four robbers, two of whom died in the last robbery that went wrong, Loïc was recaptured by the police two days after the robbery after having carefully taken the time to hide the loot. He was tried and imprisoned for 15 years.

The fourth member of the gang escaped and was never heard from again. 15 years later, he resurfaces and is determined to get his share. Who is this mystery person and where is Loïc Bertens hiding? Is he still alive? Would he have changed his name for more protection?
Min 3p - Max 5p / Children allowed
Hartford Bank 
As the leader of an experienced team of burglars, you must avoid the various traps, find out the security codes of the "Hartford Bank" and steal the famous Youkounkoun Diamond.
Are you up to the task?
Min 3p - Max 5p / Not suitable for children < 12 years old
The 5 Senses
For this special room, you need your 5 senses to relax. A total experience for young and old.
Max 5p / Children allowed
Sing Sing
Welcome to the dark world of a psychiatric prison. Although the place seems deserted, everyone agrees that voices and sounds reverberate deep into the valley from this abandoned cellar. Don't stay inside too long because you never know!
Min 3p - Max 5p / Not suitable for children < 12 years old
Vintage Room
Jean Poussin, the previous owner of the house, was a charming and cultivated man who was very successful with the female sex. He loved riddles and mysteries. He loved socialising but sometimes the man would spend hours, days, alone in his office. What was so important in that room?
Min 2p - Max 5p / Children allowed
Graffiti room
After many travels and adventures all over the world, Adrien comes home to his parents. At night, he locks himself up in his room and starts recalling lost thoughts and doubts through graffiti, art, codes and pictograms. But what exactly has he lost?
Min 3p - Max 5p / Children allowed
Save the world
Boris, a chemist specialising in viruses, arrives in Belgium after the fall of the Wall. He resumes his work and has ambitious plans. He wants to make a universal vaccine. He makes a mistake and infects the whole world and himself. Can you save the world and find the vaccine? We are counting on it.
Min 4p - Max 6p / Not suitable for children < 12 years
Location
Escape House is located Rue du Gibet 16 - 6940 Durbuy and we ask you to go directly there (15 min. in advance).