Place
Adventure Valley Durbuy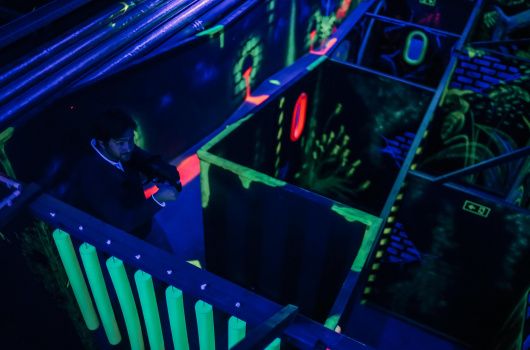 Are you the best sniper? 
Then come and discover our new dino laser game. 
Eliminate each other and take home the victory. Play in groups or individually, either way, fun is guaranteed! 
Lasergame is an activity that everyone can participate in. It is a game where you try to hit someone else and you try not to get hit. The team that hits the most and gets hit the least wins the game. The game lasts 25 minutes, you may play together among friends and other people may be present.
On the course you will also come across robots with a luminous circle in the middle. When you shoot at them you can win extra points, but be careful because they have the possibility to shoot back and you can lose points.
The laser game is located in our beautiful indoor temple, a brand new and hip location with a beautiful bar and restaurant. The laser game is accessible through parking 2. You do not need an entrance ticket for the park and you can reserve the laser game separately.
Kids lasergame party (<12 years old)
Are you celebrating your birthday soon? We offer you and your guests no less than 30 minutes of lasergame fun! This package also includes pancakes or ice cream and two soft drinks. For the occasion, the birthday boy or girl receives a nice surprise as a gift! 
 
Min. 8 years old
Min. 6 children
14€ per person
Appointment at 1:45 pm
14:00 start of the game, 2 softs included
3.30 pm 2 pancakes or ice cream
Surprise for the birthday child
Only on Wednesday afternoon or Saturday afternoon
Option: Pizza time instead of pancakes or ice cream: 18€.
Send your request to info@lpm.be
Calendar
SCHEDULES :
Open every day from 11 AM to 21 PM